Reflecting on Five Years of PinPoint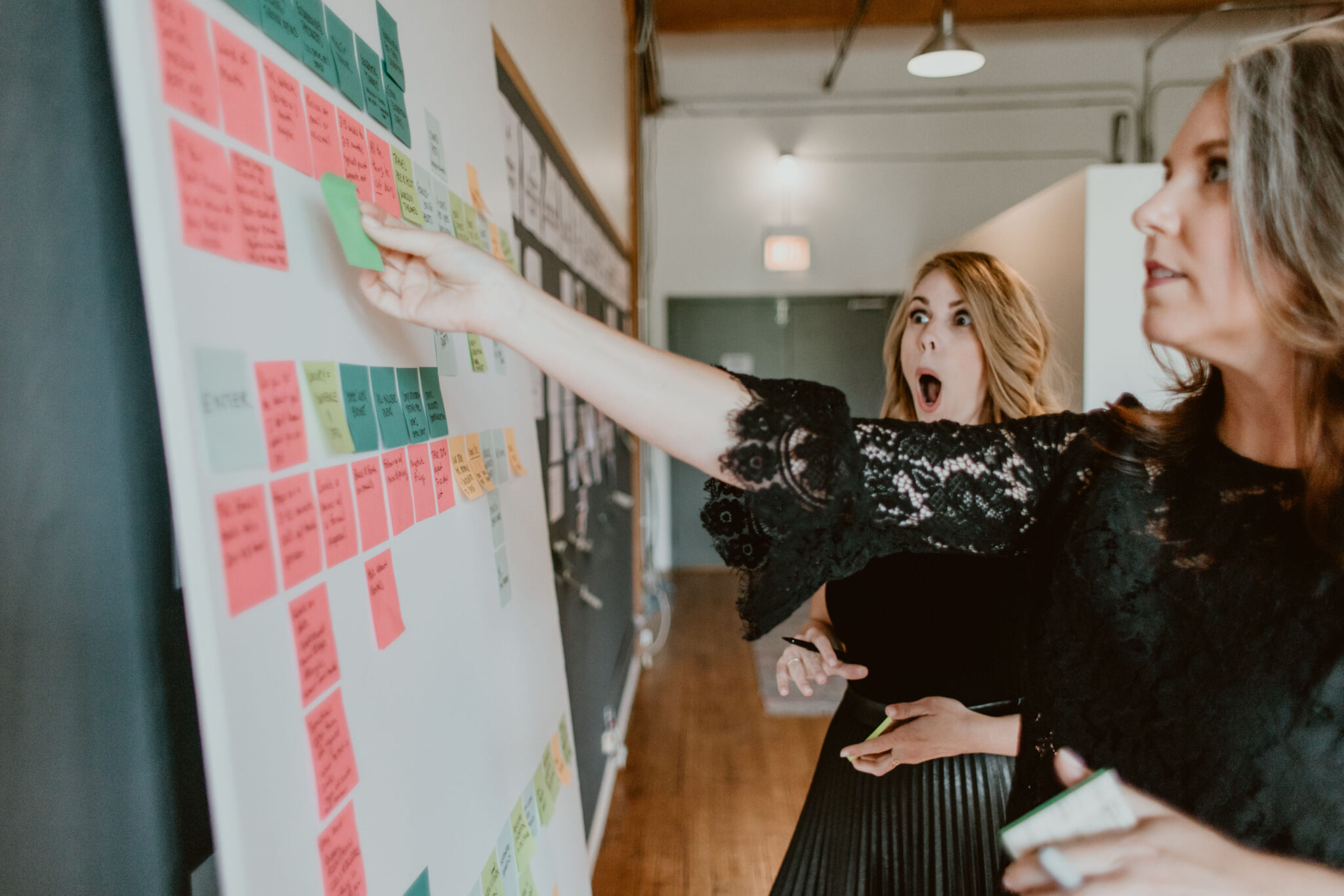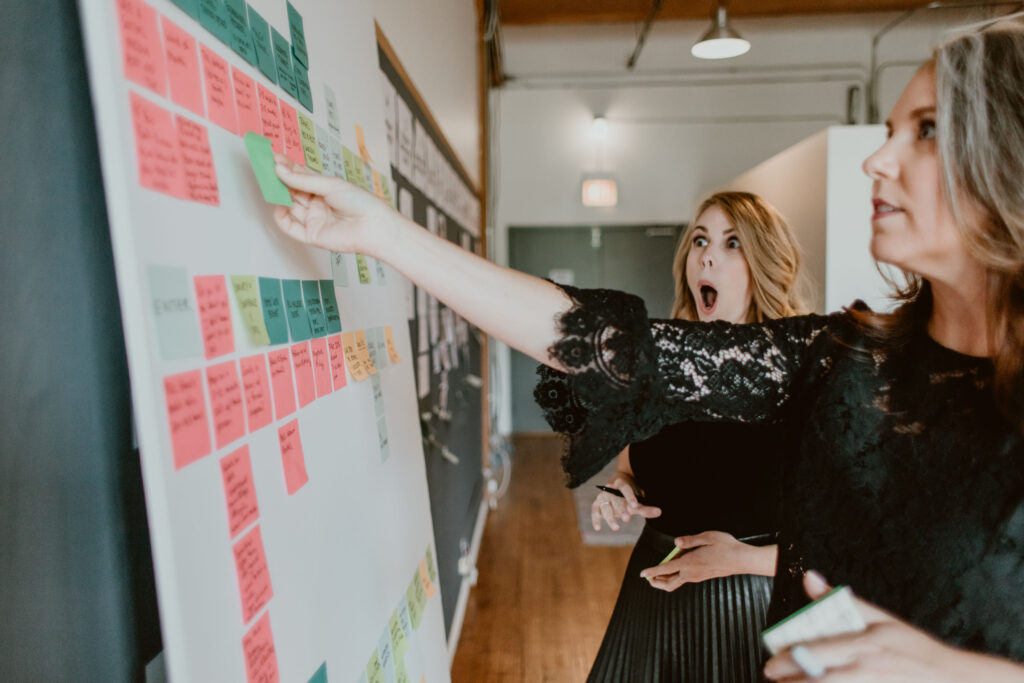 Y'all, we have officially made it to year FIVE! And when only 50% of small businesses make it this far, you have a lot to celebrate. 
The "traditional" anniversary gift for your fifth year is wood, and while we'd love to share a hand-carved gift for each and every one of you, instead we decided to use wood as inspiration to reflect on the last five years. Back in 2019, one year into starting PinPoint, we shared 12 learnings (one per month) from our first year in business. Five years later, we're looking back on those 12 learnings, and sharing with you what we've learned about them since and what we would have done differently. (Get it, wood – would… yeah we went there.)
You're probably asking yourself – Faith, Stacy, why the heck share that? That's pretty vulnerable. Well, because when we started PinPoint, we did so to make the world a better place. So if our learnings can impact even one of you, that would be worth it. So here goes nothing…
ALWAYS GRATEFUL – A major theme across our team to this day, we have never lost sight of the family, friends, team members, partners, and collaborators who have helped make PinPoint what it is today. To everyone out there – thank you. Wood-a/Coulda/Shoulda: Being grateful when everything's going well has come naturally to us, but as soon as things start to take a downturn, we tend to close off. In those moments, we should have embraced gratitude for the downtime. Rarely do we get a chance to pause and appreciate the quieter periods, and recognizing their value could have shifted our mindset from scarcity to abundance.
RETURN TO WHY – At our onset, we developed PinPoint's "why" to make a meaningful impact in the world. It's what's written on the walls of our office to reflect on and remember day after day. And it's what drives every decision we make. Wood-a/Coulda/Shoulda: We'll admit, we've made business decisions that went against our "why" – swayed by tempting clients, alluring projects, or simply money. But in hindsight, those choices cost us work-life balance and went against our culture. We should have stayed true to our 'why,' embraced the challenge of finding the right work, and not let shiny objects cloud our judgment.
REMAIN EMPATHETIC – At the root of our research is empathy. Every time we sit down with a research participant, we acknowledge the vulnerability we are asking them to share – often with total strangers. Empathy breaks down that wall and we know being empathetic only makes this world a better place. Wood-a/Coulda/Shoulda: In year one, this was mainly directed at our research participants, but as time passed, we understood the profound impact empathy plays with our team, our clients, and the communities we support. Our dedication to ongoing 'coffee dates' – with our team members, clients, and our community – have played a huge role in learning that. Woulda/coulda caffeinated up sooner.
STAY FOCUSED – Starting in year one, outside forces beyond our control pushed our limits and taught us to stay consistent, poised and focused. It's this focus that has enabled PinPoint to grow into the strength it is today. Wood-a/Coulda/Shoulda: Looking back, there were times we were too business-centric. We've realized the importance of shifting our focus to family, friends, and ourselves when that focus is needed. We wish we had trusted ourselves and not felt the outside work bandwidth stressors earlier by recognizing that our version of dedicating one week with 100% focused energy is just as good, if not better, than spreading ourselves thin over two or more weeks.
LOOK FORWARD – We built PinPoint to remain constantly curious, whether looking inward or beyond ourselves and promise that we would always be inspired by what's to come. Wood-a/Coulda/Shoulda: Staying positive about our future has sometimes been challenging. We've found ourselves getting caught up in negative outlooks – whether it's fears around climate change, women's rights reversals, and AI advancements. But we take inspiration from RuPaul who says, "You can look at the darkness, but don't stare…The solution is to create magic, dance, sing, love…create joy." So we now try to recognize our frustration as a desire for change that can propel us from anger into actions of creativity and love.
TRUE COLLABORATION – We promised to surround ourselves with people smarter than us so that their individual expertise would push our work further. Wood-a/Coulda/Shoulda: Bringing on a team that's way smarter than us turned out to be one of our smartest moves. Embracing their diverse expertise, encouraging fresh perspectives, and fostering collaboration has worked wonders for PinPoint. As has our own team-designed emojis – never underestimate the power of an emoji!
CELEBRATE THE WINS – From large business wins to small personal gains, we promised to take the time to celebrate our wins. Wood-a/Coulda/Shoulda: Missing out on celebrating our wins through posts like this in years 3 & 4 is a clear sign that we could have done better (see why in the Data That Matters post below!). We're grateful to have started a weekly ritual of acknowledging our small wins with the team – we should have done that sooner.
SAY "YES" – On even the most tiring of days, we forced a 'yes' to help find ourselves in places we wouldn't have otherwise found. Wood-a/Coulda/Shoulda: In our early days, we embraced saying 'yes' a lot – maybe too much! Looking back, we should have employed the 'what about'-strategy more frequently. "What about instead of meeting at 10am (and reorganizing my entire day to pull that off), we meet at noon instead?" – gosh we wish we used that sooner. 
LEARN FROM ALL – We purposely built PinPoint to share learnings across industry lines so that our work could impact the whole human (and not just a person in their banking mode). Wood-a/Coulda/Shoulda: As ethnographic researchers, we're not just inspired by diverse perspectives, we need diverse perspectives to do our job right. In 2022, we started Research Voices, our database of unique people with valuable perspectives across the country. It's an incredibly unique differentiator that we woulda/shoulda/coulda prioritized sooner, but leaning into #7 and celebrating the fact that it exists today!
SUPPORT IS VITAL – PinPoint wasn't built by just two crazy cat ladies, it was built because we welcomed the outpouring support from friends and family who make sure we never have to stand alone. Wood-a/Coulda/Shoulda: If you take nothing else from this long winded post, always accept the support. You'll learn, you'll grow, and you'll be able to support someone else because of it in ways you never dreamed possible. Full stop.
STAY HUMBLE – We acknowledge that we have and will continue to make mistakes. However, each mistake empowers growth and changes us for the better. Wood-a/Coulda/Shoulda: One of our greatest strengths is owning up to mistakes and taking responsibility to fix them. Embracing our humanity has made this journey of owning a business a heck of a lot less daunting. Nowadays, we view PinPoint as a continuous prototype, where nothing is too precious, and mistakes serve only as a stepping stone towards improvement.
WORK HARDER – We have gratitude for showing up everyday and hustling harder than the day before. Because of this, we are manifesting our own futures and impacting the lives of others. Wood-a/Coulda/Shoulda: That description was verbatim from our year one reflection, and we woulda/shoulda/coulda removed 'hustle' from our mentality earlier on. We learned when we 'hustle', we tend to let our energy deplete so much that it serves no one or nothing well. Lean into the airplane oxygen mask mentality, give yourself grace and balance first, from there you will be able to serve everyone and everything better.
It's been an exceptional five years and we can't wait to see what the next five have in store. Whether you, too, are a small business owner, a C-Suite, a leader of teams, a spouse, a sibling, a friend, or someone in between – we hope there's something above that resonates if even in a small way. And if it has, we'd love to know what it is. If it hasn't, we'd also love to know! As always, don't be a stranger!